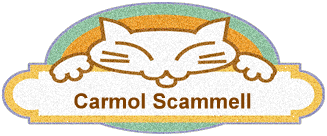 Author

Words by Carmol Scammell
Illustrations by Dawn Lewis

Available from 'Saint Bernard's Garden Gallery' on Alpine Terrace and 'Wear and Wares' on Main-Western Hwy both on Mount Tamborine Qld Australia.

I'm Not The Cat I Was

My jowls have been lifted
My cellulite shifted
My cheeks are now smooth and unflawed,
My teeth have been whitened
My ab muscles tightened
My nipples reduced and restored,
My tail is much blonder,
I no longer ponder,
I'm trivial, easily bored,
The world that I wander
Is frivolously fonder
Of glitter that can't be ignored.
In family albums I cease to exist
You won't recognise the young cat you once kissed
I look in the mirror and cannot find me
I'm just not the cat that I once used to be
I'm just not the cat that I was.

Contents:

Troubadour Toms
Cat Tail Of Two Cities
Cats On The Town
The Coolest Cat Of All
Sammy the Alley Cat
Cat In An Old Brass Bed
Jack De Cata
Cat-A-Tonic
Waltzin With Blue
I'm Glad I've Lived My Life
I'm Not The Cat I Was
Cats Afloat

Carmol Scammell has resisted the urge to go feral, choosing instead to live on clean Tamborine Mountain where she writes her 'DHANA' series of childrens books, paints and hangs out with like-minded cool cats.

Dawn returned to Oz recently, after 34 years in Europe. She divides her time betweeen friends and family, brushes and pencils, and her camera, specialising in flora and fauna near her home on Tamborine Mountain.
C
2007 © Dawn Lewis & Carmol Scammell