Creating something different and possibly unique
for collectors and players.
Rob has always had a fascination of this wonderful, mystical Aboriginal instrument, the didgeridoo. Musicologists classify the didgeridoo as an Aerophone. Possibly the world's oldest known wind instrument. After buying one from Kristian Benton, a Ngemba man and master didge maker and player, Rob decided he had to learn to play it. Who better to teach him than Kristian Benton? It didn't stop there!
After studying Aboriginal and European methods of construction, Rob, being a professional woodworker and craftsmen decided to try his hand at creating his own didgeridoos.
The Wooden Trumpet or Wooden Drone Pipe

Rob creates traditional and non-traditional didgeridoos. The traditional didgeridoo, or true didgeridoo, is a hollow log, traditionally Eucalyptus, eaten out by ants, that can be difficult to find. Rob can create, far more didgeridoos by hollowing out the Agave spikes found in the local area, or creating a split didgeridoo from a variety of wood species Rob has on hand. The timber used for the split didges, is aged weathered timber, which has been collected from the hills of Bundarra, salvaged from previous milling.
Iron Bark, Wattle, Red Stringy Bark and White Stringy Bark are some of the species found. The Agave is considered a pest plant and Rob has been asked, on occasion, to remove the plant from properties. The Agave plant can cause acute dermatitis if flesh comes in contact with it.
Out of respect for the Aboriginal culture and the true didgeridoo, Rob calls his non-traditional didgeridoos, Oddgeri(s), or Oddgeridoos, so the Didgeridoo connection is obvious. Rob is not an Aborigine. Initially, Rob was only creating didges for his own use, but after a discussion with a local Aboriginal elder, who wanted Rob to be on the lookout for natural didgeridoos, Rob decided he could create and supply the locals with playable and quality didgeridoos. Occasionally, Rob finds a natural didgeridoo that has been eaten out by ants.
Read the Newcastle Herald review
Rob's goal was to create a playable and quality musical instrument for the lovers of the didgeridoo.
Rob's didges look deadly and sound deadly too!
- Local Koori artist and Dharawal elder, Colin Isaacs.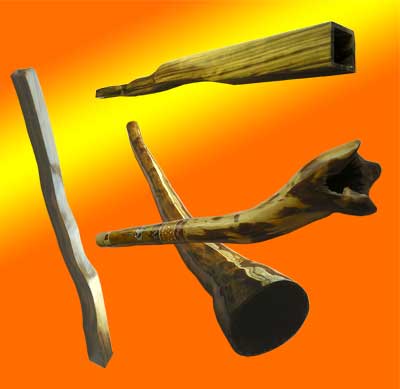 Oddgeridoos


A Rob Day Oddgeridoo - Artwork by the Myall Creek Artist - Colin Isaacs

Hand made to be played
Decorated and Non Decorated. Beginners to Professionals.
Didgeridoos and Oddgeridoos
Rob creates his didgeridoos using traditional and non traditional methods. One of Rob's construction methods utilises drying and hollowing out the agave spikes found in the local area. This method ensures Rob can make didgeridoos, as finding a natural hollow log, eaten out by ants, and also plays a decent musical key is becoming progressively harder to find. Rob uses an electronic tuner to determine the key a didgeridoo plays.

Phone Orders

At present, all the Didgeridoos / Oddgeridoos Rob has for sale, are for in store shoppers only as our range of Didgeridoos and Oddgeridoos is constantly changing, and every one that is individually handcrafted is unique.
However, Rob will take Phone orders or enquiries on 02 6723 1350.
(Tuesday to Saturday 9am to 4pm Eastern Daylight Time +11 GMT / UTC)
Enquiries by email (newts@newagemultimedia.com)
Our range starts at $65 for a beginners' didgeridoo, up to the professional quality Didgeridoos and Oddgeridoos.