Carvings, Unusual items and Steampunk Metal Sculptures.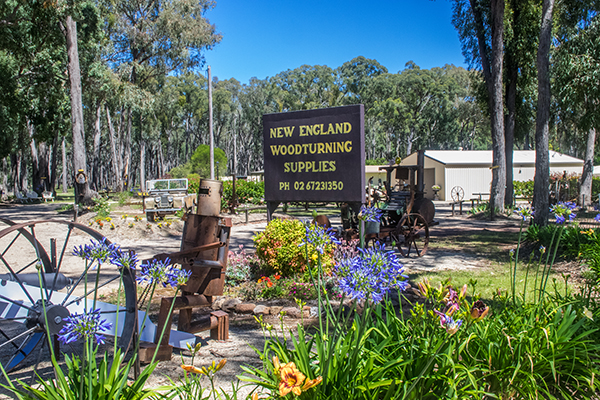 Ned The Gate Guard, Classic Jeep and Steampunk Sawmill!
The Sculpture Walk began out of the need to entertain the Woodworker's family, while the woodworker was selecting their tools, wood and project components. At first, plastic ornaments were used, until the weather compelled us to switch to metal!

| | | |
| --- | --- | --- |
| | | |
| Carvings | Unusual Items | Steampunk / Metal Sculptures |
More to see
Tour of the Sculpture Walk
in December 2021
* We have added to the Walk since this video! *
What is Steampunk?

Steampunk is sub-genre of science fiction / fantasy inspired by the visions and writings of 19 century authors - H.G. Wells and Jules Verne. A fantasy world of technology and aesthetic design of a steam powered, industrialised 19th century and how these authors would have envisioned technologies of the future! An example would be how Hollywood portrayed H.G. Wells' Time Machine in the 1960 Film "The Time Machine" or how Hollywood portrayed The Submarine in the 1954 film, "20,000 Leagues Under The Sea."
Copyright(c) 2017 New England Woodturning All rights reserved.
newts@newagemultimedia.com