Bones McCoy is our mascot and security guard.
Bones McCoy was a Halloween skeleton Rob purchased several years ago. He was used in some publicity
photos for the sculptures and somehow became a staff member and mascot.
Bones McCoy can be found at his security station in the Didge Humpy.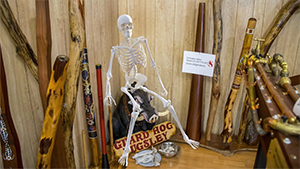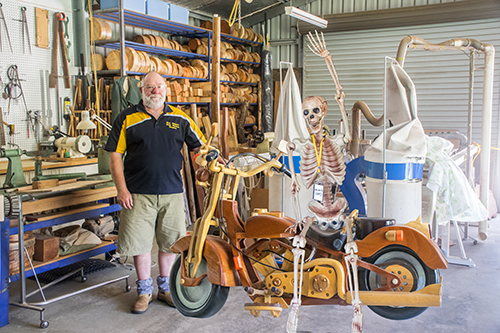 To watch the videos in order - bottom of the list to the top.
Hero or Villian - Trailer for Halloween Movie 2022
Bolt Cutter Lizards
Renovations
Visitors from far away..
Bones McCoy is a survivor!
Bones McCoy - Halloween Skeleton
An Unlikely Christmas Story 2021
An Unusuall Christmas Gift
Bones McCoy encounters an unusual customer...suspiciously familiar...this doesn't end well!
Bones McCoy is back on Halloween 2021 causing mischief and mayhem!
Coming Halloween 2021
`Bones McCoy: Security Guard
Fight Club
The Halloween Movie of 2020
Bones McCoy, our security guard, went stir crazy during the lockdown. Invited some creepy friends around and things got out of hand
when COVID-19 arrives. Screaming will become contagious! You will have to self isolate!
This is Halloween 2020!
A visit from Haystack
Copyright(c) 2020 New England Woodturning All rights reserved.
newts@newagemultimedia.com